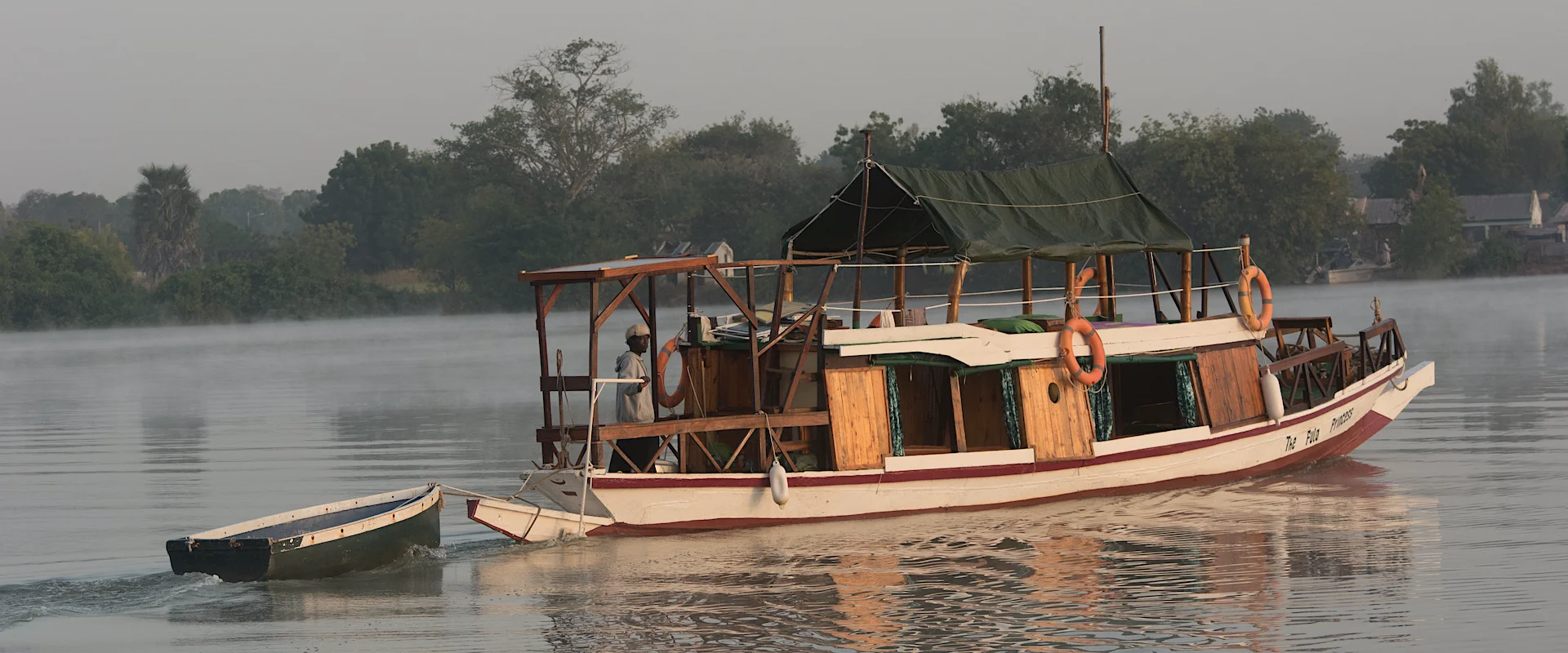 Verified
The best trip ever Amazing ! So beautiful ! We spend 3 incredible days in the boat with the best crew ever
Yusuf and Modou , both marvelous persons , full of details , delicious food and kindness.
The boat is the best and the river is just a dream , at night you can see all the constellation and millions of shining stars ,
One of the most beautiful trips I have done.
Thank you Dave , Yusuf and Modou.
Verified
A once in a lifetime adventure up the river Gambia! Did an amazing adventure with FairPlay Gambia with two days hiking and two days kayaking. Getting up river provided for amazing local hospitality, once-in-a-lifetime experiences exploring local villages, mysterious stone circles, and stunningly beautiful natural landscapes.
David was very helpful in arranging everything and even showing me around the local spots (definitely go to Bendula's bar!) on my rest day in between. Great chance to meet some real characters!

FairPlay Gambia also source everything from the local communities, providing employment to some great local guides, putting every much needed dalasi into local communities.

If you want a genuine, once-in-a-lifetime adventure with lots heart and soul, this is it!

A big thanks particularly to David and Che!

Verified
A great kayaktour by fairplay We went to Janjanbureh with 7 friends because we saw the nice website of Dave. Because we are all young we decided to so the kayaking tour. We did not regret it, The full tour is quit long but you see some animals and in the end we had a nice sunset. Also the day before the tour we arrived at late in the nigt and thanks to dave he arranged a nice mael and place to stay. Already one worry less after a long drive from Senegal. I would reccommend everyone this expirience.

Verified
Een top trip met z'n achten Flexibel en klantgericht. Goede ontvangst. Schitterende trip over de Gambia. Heerlijk gegeten op de boot en veel van flora en fauna gezien. Dit mag je niet missen👍

Verified
Amazing 4-Night Hiking and Kayaking Trip Down the River Gambia I did a 4 night hiking and kayaking tour down the River Gambia with Fair Play and had a fantastic time. Dave (the owner), was extremely helpful, responsive and flexible when it came to planning out the experience and my other guides were friendly, knowledgeable and reliable as well. There is so many options when booking with this company, and given how accommodating and reliable they are, I would not hesitate for a second to recommend them to fellow travellers. A tour with Fair Play is an excellent way to see and experience the real Gambia.

Verified
Lovely cooking class We did a group cooking tour with Yusfa. We started at the markets and bought all of the ingredients and then headed back to the chefs compound. We made akara and yassa as we had requested. We had such a great time! The food was delicious. It was a truely authentic experience.

Verified
Great time with young kids We did a one-night/two-day trip with FairPlay Gambia with our three young kids and had a lovely experience. The crew was kind and accommodating and everyone had fun, including the kids who loved seeing hippos and chimps and swimming in the river! Communications with Dave was also great. We highly recommend it!

Verified
A deep dive up river The whole experience was a trip of a lifetime. Waking up with the River and sipping tea whilst watching some stunning birds and wildlife was just delightful. Yusapha, lamin and the skipper were good compamany and easy to be on the boat with. Lamin created greta mealas from local market food. Yusapha knew everyone in Janjanbureh we met his mother in the market and he took us into the school to meet staff and pupils. His local knowledge was great and he was able to put it over in an interesting and entertaining way. David was very helpful and source of great information imparted in his favourite bar. A great project with true local connections to Gambia

Verified
Best River Cruise in Gambia I took a one-night cruise on the boat from Bintang to the Senegambia bridge at New Year's 2023. On the first afternoon we saw lots of dolphins. The dolphins were very playful and really put on a show jumping out of the water. It was so impressive, I didn't know that dolphins did that in the wild!
We also took a mangrove tour in the smaller boat. The upriver mangroves are very peaceful and clean, with lots of African darters as well as various types of cranes. I am not a birding person but even I enjoyed the opportunity to observe an unspoiled habitat like the mangroves.

The crew are consummate professionals. Special recognition goes to Mr Camara, the chef on the boat, who is an absolute wizard. I have no idea how he works his miracles with a shipboard kitchen, but I can say without a doubt that the meals he prepared were the best that I had in Gambia. Absolutely amazing!

Verified
the icing on the cake of your Gambia trip Still looking for an extra wow experience for your Gambia trip; the RiverGambiaNationalPark trip last January with the Fula Princess was ours.
Despite the disclaimer, we saw them all: crocs, hippos, chimps and baboons. Lots of chimpanzees and baboons.

The friendly crew will do everything they can to give you a fantastic trip. The captain brings you as close as possible to everything, the cook prepares delicious meals with fresh vegetables, fruit and in our case fish. And the guide helps you with everything and makes sure you don't miss anything.
Many thanks again to everyone at the Fula Princess and we hope to be back.
FairPlay Gambia has developed an exciting range of eco-tourism things to do upriver in Gambia for visitors to the Central and Upper River Regions.
Based in Janjanbureh, we specialise in providing tailor-made, authentically African experiences for solo travellers and small groups looking to get off the beaten track.
We visit areas where the traditional culture is still strong and modernisation has not changed lifestyles.
Our guides are from the local community and they are always happy to share their traditional knowledge of the river, the bush and the villages with you.
And because we are a social enterprise business, you can enjoy your trip safe in the knowledge that you're making a valuable contribution to sustainable development.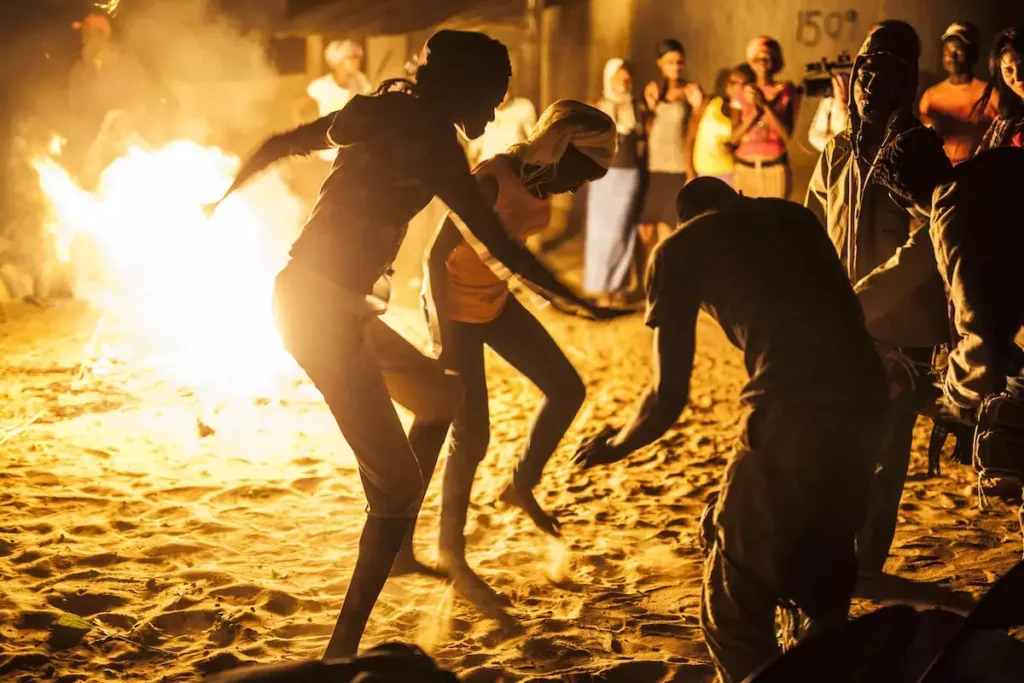 A Gambia River Cruise
A residential Upriver Gambia cruise onboard the Fula Princess takes you deep into the heart of rural Gambia.
Falling asleep to the sounds of the nighttime river and waking up to the spectacular African sunrise is an experience that you will never forget. Along the way, you will have a unique glimpse into the traditional lifestyles, culture and nature of this fascinating country.
Because we are a private charter, we can design the trip around your particular interests and move at your pace. And because we specialise in small groups (maximum 6 guests), you will enjoy a rich and immersive experience of The Gambia.
The Fula Princess is a traditional wooden pirogue, with two full-size double berths downstairs and options for sleeping under the stars on the upper deck. She is equipped with a galley, marine toilet, sit-down shower, solar lighting and charging points and all the required safety equipment. Read more…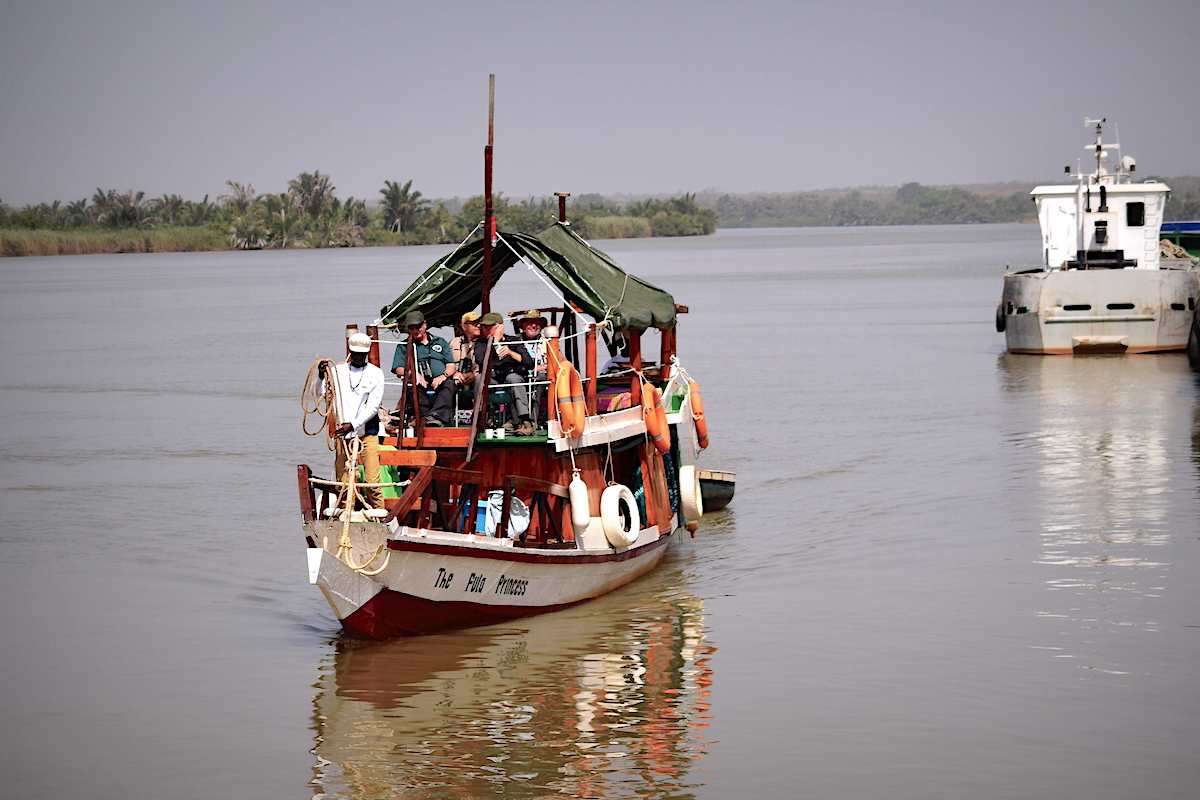 Local Boat Trips in our Small Boat
Round the Island – Two to three hours trips around the beautiful nature of Janjanbureh Island, looking for hippos, baboons and other primates.
1 – 4 People: £45and 5 – 10 People: £70
River Gambia National Park – Six-hour round trip to see the Chimpanzees at the River Gambia National Park and a chance to spot hippos, crocodiles, baboons and other primates. Depart Janjanbureh at around noon to see the chimpanzee feeding and return as the sun sets and the wildlife is most active.
1 – 4 People: £90 and 5 – 10 People: £120
Or travel in style onboard the Fula Princess and enjoy comfortable mattresses, cooked lunch and toilet facilities. Private charter day trips to the River Gambia National Park from £295 including lunch and entry fees
Birding
Bird-watching in The Gambia is an unforgettable experience, with a huge variety of habitats and species crammed into a small area. Birding on the River Gambia with FairPlay offers a unique chance to experience the full range of what can be found in the inland areas, both on and off the river.
Why FairPlay for Birding?
Wake up in nature
Visit the best birding sites both on the river & off
Top birding guide or bring your own
Explore new places that only we visit
Environmental & socially conscious company Read more…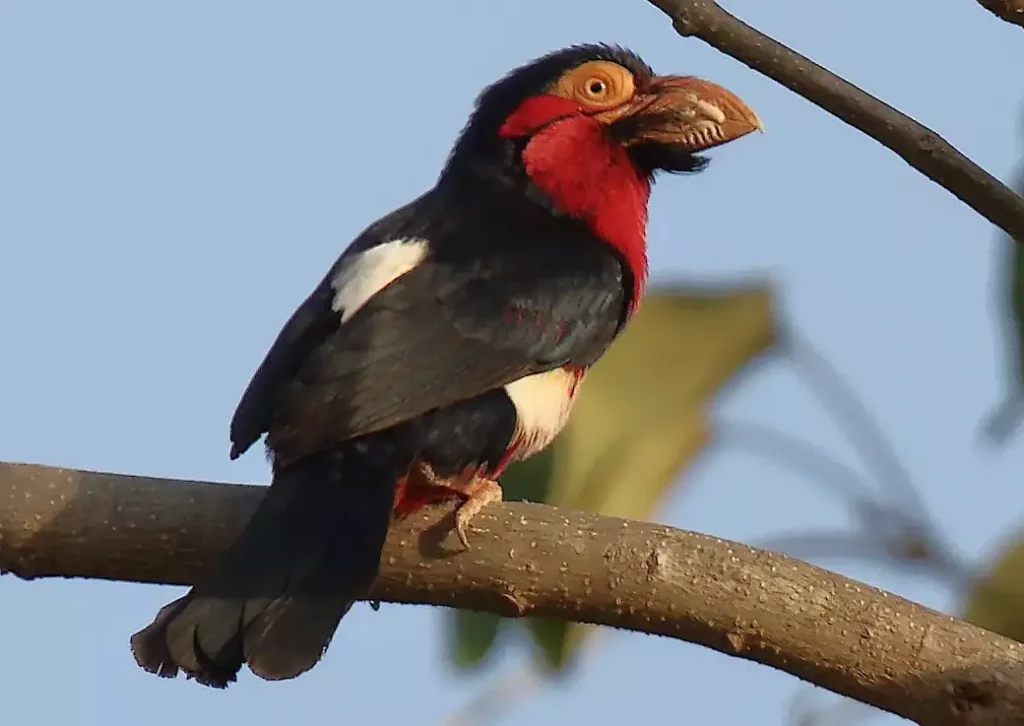 Kayaking
Kayaking with FairPlay is a chance to experience the beauty and tranquillity of the River Gambia in perfect peace and at your own pace.
We offer a range of trips to suit all levels of fitness and experience, from half-day local paddling to multi-night expeditions in tents, lodges and local homestays.
Along the way, you will enjoy incredible wildlife and have the chance to visit local communities.
UK instructors trained our friendly, professional guides and they have an in-depth knowledge of the river and surrounding communities.
They can offer basic instruction and safety assessments for beginners. Read more…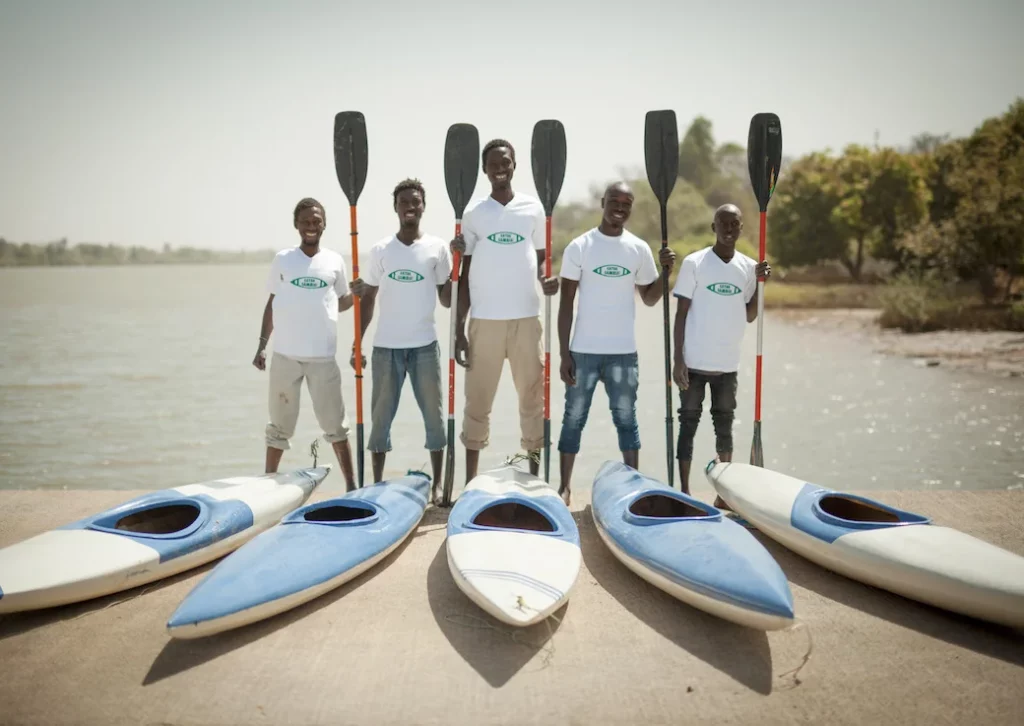 Hiking
FairPlay has been developing several hiking and cycling trails from Janjanbureh and further afield, that take you deep into the heart of rural Gambia.
Experience the fascinating wildlife, traditional culture and a warm Gambian welcome as you explore areas rarely visited by travellers. Read more…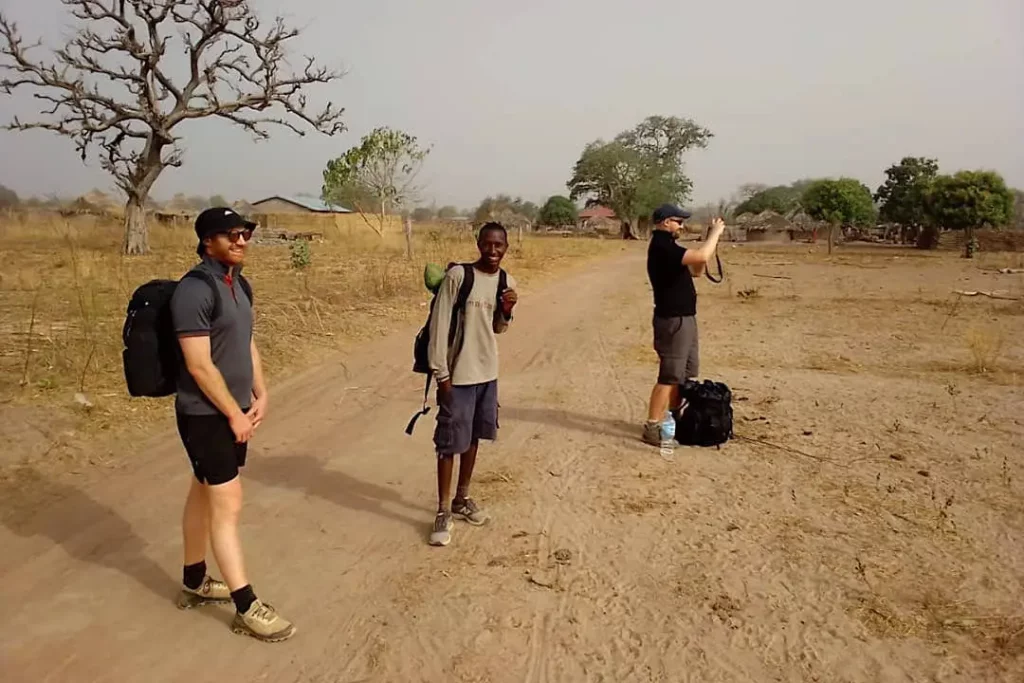 Fishing
The River Gambia is home to the famous African Tigerfish and brings anglers from worldwide to test their skills against this fearsome predator. Our captain has vast experience in the area and will take you to the best fishing sites on the river, ensuring you the greatest chance of success.
Two x 3-hour sessions (morning and evening). Max two people: £120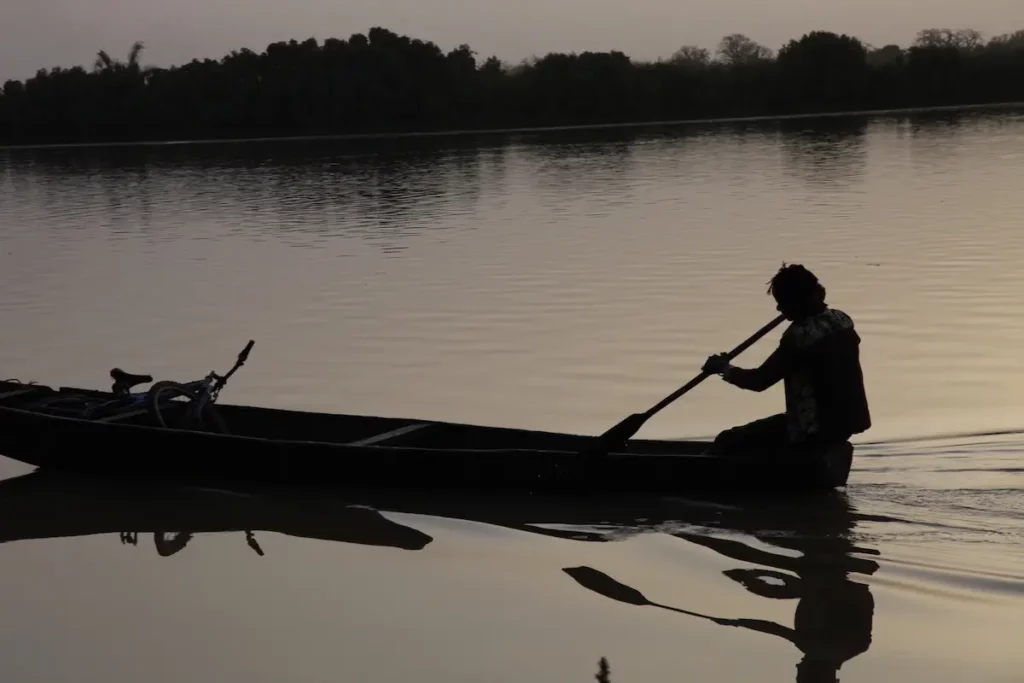 If you prefer to fish from the bank, we can recommend the best sites and arrange equipment hire and a local assistant. Please message us for more information or to make a booking.
We have had 2 genuinely fantastic experiences with this brilliant team - our first being a kayaking trip down a stretch of the river Gambia seeing lots of wildlife and camping overnight. Today we returned from a 24-hour cruise on board the Fula Princess - 4 of us with the superb FairPlay Gambia team. Seeing hippos (including a whole family stretched out on the bank) was an experience of a lifetime as countless other wildlife along the way. The crew couldn't have been more hospitable - delicious food, a comfy bed with nets (on the top deck) and interesting conversations. Fairplay Gambia stood out to us as a social enterprise helping to support local communities which was wonderful to see.
I would thoroughly recommend this great organisation for individualised and exciting trips into the heart of Gambia!
Visit TripAdvisor to read more 5-star reviews of FairPlay Gambia
Workshops in local arts and crafts
Traditional skills are still very much alive in rural Gambia. So whether you're interested in learning about African music, cooking, pottery, silversmithing or traditional fabrics, FairPlay can organise single-day or multi-day workshops with local artists who are happy to share the secrets of their trade.
DRUMMING-COOKING-POTTERY MAKING-SILVERSMITHING-TIE N DYE/BATIK MAKING-LOCAL FISHING
The River Gambia
The River Gambia runs from its source in the Fouta Jallon highlands, 1,120 km to the Atlantic Ocean at Banjul. The last approximately 420 km of which are in The Gambia. It contains or supports some of the most pristine environments in West Africa. These include The River Gambia National Park and the Bao Bolong Wetlands.
The freshwater habitats of the River Gambia around Kuntaur and Eastwards are home to Hippos, Nile crocodiles, Turtles, Warthog, Hyenas, African clawless otters, monitor lizards and four species of primates including Guinea baboons. The saltwater habitats nearer to the coast have two species of dolphin, saltwater crocodiles and even manatees. The country as a whole boasts a huge diversity of bird species for its small size.
From pre-colonial days until recently, the river was the main route for people/goods travelling to and from the provinces. These days tarmac roads have replaced the bush tracks and the bus service has replaced the riverboats. Leaving the river unused apart from a few fishermen and the peanut barges that still carry the annual harvest downriver.
River Gambia National Park (RGNP)
The River Gambia National Park is situated to the West of Janjanbureh and was established in 1978.
It includes the five 'Baboon Islands', three of which are home to more than 80 chimpanzees.
The animals have been rescued from the illegal trade in exotic species as part of Stella Marsden's Chimpanzee Rehabilitation Project and now live undisturbed on the islands.
While it is not permitted (or safe!) to land on the islands, it is possible to walk on the mainland with the park rangers to look for the endangered Temminck's red colobus monkeys and to learn more about the rehabilitation project.
Ecotourism
As a social enterprise, FairPlay strives to ensure that our style of ecotourism brings benefits to the local community. And minimises damage to the environment and supports the development of The Gambia as a whole. We believe in people over profit. Employing local people as far as possible and always on fair terms. We try to use local, sustainable products whenever they are available and prioritise ethical suppliers in our purchasing decisions.
We've been involved in supporting various projects in and around Janjanbureh. These include bee-keeping training, forestry projects, educational sponsorship, kayaking training for local youths, football academies and much more. Want to know more? Or would like to involve yourself with a community project in the area, we can also arrange volunteer placements.
Self-drive to Janjanbureh

Thinking of hiring a self-drive car? Thanks everyone for the great response to the public transport …

Public transport

We often get asked about public transport from the tourism enclaves at the coast to our …

The story of the dead cow

Cows in Gambia, there's no waste in nature! I apologise in advance if my story offends …