We often get asked about public transport from the tourism enclaves at the coast to our home in Janjanbureh. This latest blog is full of advice about the best ways to travel if you're on a budget.
Gambia is a small country. If you are lucky enough to have your own vehicle or can pay for a private hire taxi, you can leave Banjul early in the morning and arrive in Basse Santa Su at the far Eastern end of the country by lunchtime. However, if you don't want to spend approximately £150 – £200 each way, there are other options that are cheaper and greener, such as public transport.
I'd highly recommend a trip by public transport. It's one of the best ways to escape the tourist traps, mix with the local people and get beneath the surface of life in The Gambia. If you are a nervous passenger, I recommend the big Gambia Transport Service Corporation (GTSC) buses rather than the privately owned, 'Sprinter' minibuses. GTSC's safety record is very good. They have experienced drivers and the buses are regularly checked and serviced.
Gambia Transport Service Corporation (GTSC)
GTSC operate several single-decker buses between Kanifing Bus Station at the coast and Basse Santa Su every day. The departure times seem to change every few weeks but usually, the earlier you get to the bus station the better chance you have of meeting a vehicle and getting a seat. Most of the buses leave Kanifing between about 7 and 10 am. There is one last one at around 12.30.
If you arrive early, you may be able to get one of the 'Super Express' services. Costing around £5 to Janjanbureh, these blue-coloured buses have big comfortable seats, and air conditioning and they only stop at the main towns along the way: Brikama, Soma, Janjanbureh, Bansang and Basse. If you leave Kanifing at 8 am, on a good day, you will be in Janjanbureh by 1 pm.
The other services take a little longer, or even a lot longer! The worst bus is usually the last one of the day, which is likely to be packed full of people before it even leaves Kanifing. To the point that even finding a standing room can be a problem. Even then, it will stop at what feels like every village along the way to collect more people. To load and unload goats, furniture, bags of rice or other foods, building materials and most other things you can imagine. Don't expect to be in Janjanbureh before dark, even on a good day!
All the GTSC services stop at Soma, a bit further than halfway to Janjanbureh. For safety checks on the bus and to let the passengers stretch their legs. Make sure that you're hungry and try one of Soma bus station's unique chicken bone sandwiches – very much a local speciality. Or if you are there early, my personal favourite is the fried liver.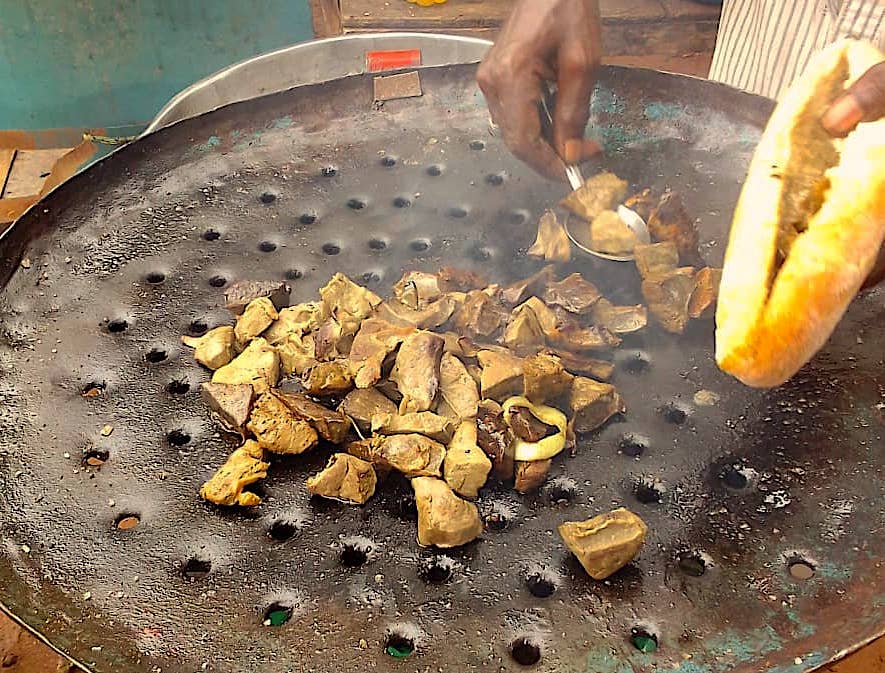 Gelli Gellis
Because the GTSC buses are limited in number and often full by the time they leave Kanifing, most Gambians choose to travel by privately owned minibus, known locally as Gelli-Gellis or Sprinters.
If you like to experience everyday, local life when you travel and don't mind a bit of discomfort, then this is the choice for you.
If you are coming to Janjanbureh, you will have to get yourself first to either Bundung Garage or Brikama Garage to find a vehicle. It's good to get there fairly early, as Gelli-Gellis don't run to a schedule, they go when they are full. This means that if you miss the morning rush of travellers, you can sit, sweating in a stationery vehicle for hours before you depart.
That said, if you don't have anywhere to be, the garages can be a fascinating place to sit and watch the world go by. Stay in your seat and people will even come round selling popcorn, along with bananas, peanuts, fish pies, boiled eggs and flavoured ice. But it's not just food.
Traders are all around, selling everything from underpants to umbrellas to footballs to pharmaceuticals to jewellery and jujus.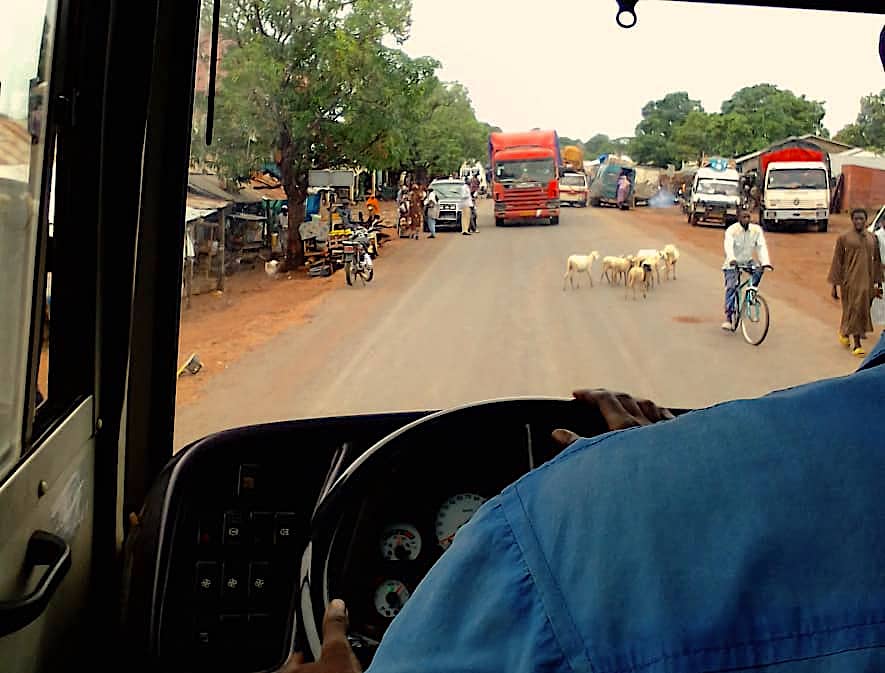 Men sit at the front!
Also, if you have to wait at the garage you should get a choice of seat. The two front seats are considered the prime locations and will usually be snapped up by the first men to buy a ticket. I say 'men' because culturally, Gambian women tend not to travel in front of public transport. Either way, for me I'd rather not see what the driver is doing and I always think that the front seats are closer to the crash, so I usually find a place in the back. Personally, I like a window seat (one with a window that opens ideally) anywhere without a wheel arch to block my feet.
The least desirable place is to be in the middle of a row. Both because the centre seat has no backrest and because you risk becoming the meat in a giant backside sandwich. In theory, these vehicles carry 4 passengers per row. But almost invariably the driver will try to squash five people into the already limited space. The more the vehicle fills up, the hotter it gets.
Breakdowns
Once you're on the highway and away from Brikama's bustling traffic, the breeze cools everything down a bit and you can settle in for what, on a good day, will be a five or six-hour journey (including your chicken bone sandwich stop at Soma). However, vehicle breakdowns are fairly common. Usually, it will be something minor, like a tyre blowing out or an exhaust falling off, which can be quickly fixed at the roadside.
More serious problems, that can't be bodged up by one of the local village mechanics are quite rare but can be an inconvenience if they happen. The driver will refund your money (minus the amount for the distance you have travelled) and you'll join the other 25 people standing in the sun at the side of the road trying to flag down any vehicle going in the right direction. Rest assured though that Gambian people are really hospitable and someone is bound to help you get to where you are going.
Enjoy the view
Along the way, you can relax and enjoy watching life go by in the towns and villages that are dissected by the highway. As you leave the Kombo region you see mostly cement and corrugated houses. This gradually gives way to more traditional clay-block and grass-roofed structures as you head East. In the rainy season, the views are green in all directions. In the dry season, the scorched soil and rock are the deep red that we all associate with Africa.
If you are lucky you may see monkeys and even huge troops of baboons crossing the road. Gambians are always sociable, especially to visitors and it's not unusual to leave a vehicle with an invitation to a wedding, naming ceremony or another event.
One word of warning though
As Gambia is an otherwise very safe country, the roads are probably the most dangerous thing here. And Gelli-Gelli drivers have a bad reputation for safety.
Of course, some drivers are safe, considerate and sensible but others are not. It is common to see young, inexperienced drivers, driving too fast in poorly maintained and hugely overloaded vehicles.
On a journey from the coast to Janjanbureh, you will see up to a dozen crumpled, upturned vehicles. They are deliberately left at the roadside where they have crashed, to serve as a warning to others.
That said, don't be put off. Tens of thousands of Gambians use these vehicles every day and most have lived to tell the tale. So as a visitor making a one-off trip your chances are pretty good!
So, next time you're coming up river why not give public transport a go? It's cheap and eco-friendly, you'll get to see Gambia like a Gambian and maybe make some new friends.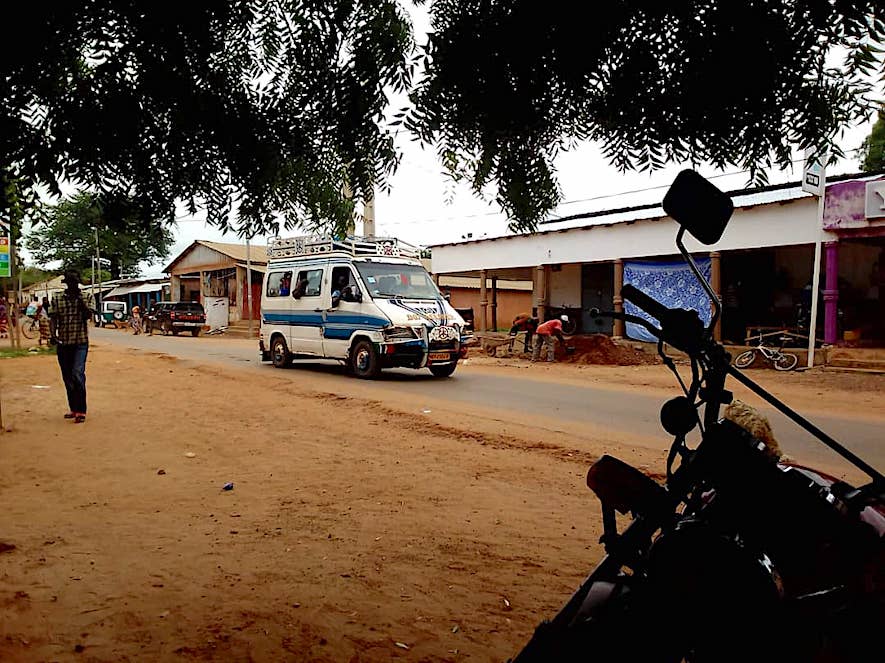 Written by Dave Adams