Gambia weather forecast for the next 5 days!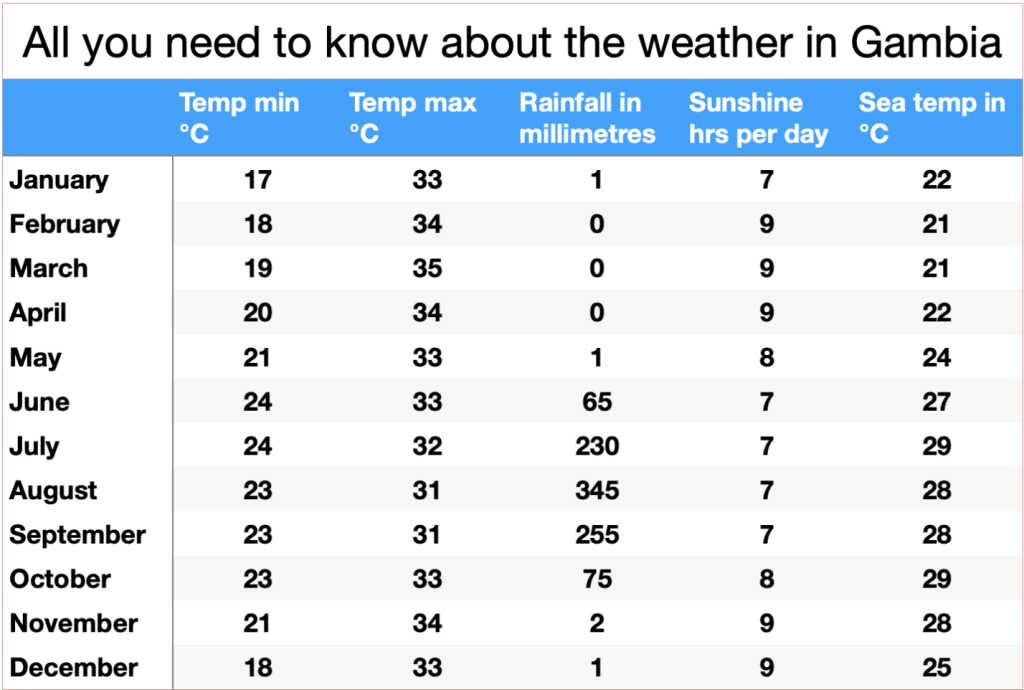 Weather from a local
Ok, let's start by saying the weather in The Gambia is good all year round.
This is true but humidity and areas play a big part! For example, today is 15 June, and here on the coast it's 33 degrees yet the humidity is 90%.
Let's start in November when tourists arrive it's usually 32 degrees with small wind, not a cloud to be seen, in the evenings the temperatures drop to around 22 degrees.

December – Much of the same as November although winds truly drop and the heat feels more than it truly is!
January – It's the Harmattan season, temperatures are just as hot as before but we get a wind from the Sahara sweeping southwards down the coast, making people think it's cooler than it actually is.
February – The harmattan continues ruining fishing trips and local fishing as the water becomes too rough. If you sunbathe on the beach expect sand to be airborne.
March – all calms temperatures usually hit 33 degrees and the wind is low sunbathers paradise!.
April – Last month for tourists and maybe the best month. Temperatures are rising and humidity is still low.
May – Now things start to change, humidity rockets up, and what is 34 degrees feels like 40 degrees the rain is coming.
June – Now humidity takes over, it doesn't matter the temperature-humidity becomes the controller! To physically work is draining! thunderstorms can be expected at any time.
July – Fans on!!!! The temperatures in July are slightly higher than in previous months but the humidity is huge!! Over 90%. Normally in very late June or early July the rains break lowering the humidity. Every year is different!
From July it's heavy downpours sometimes days until September.
Written by Ged Brown