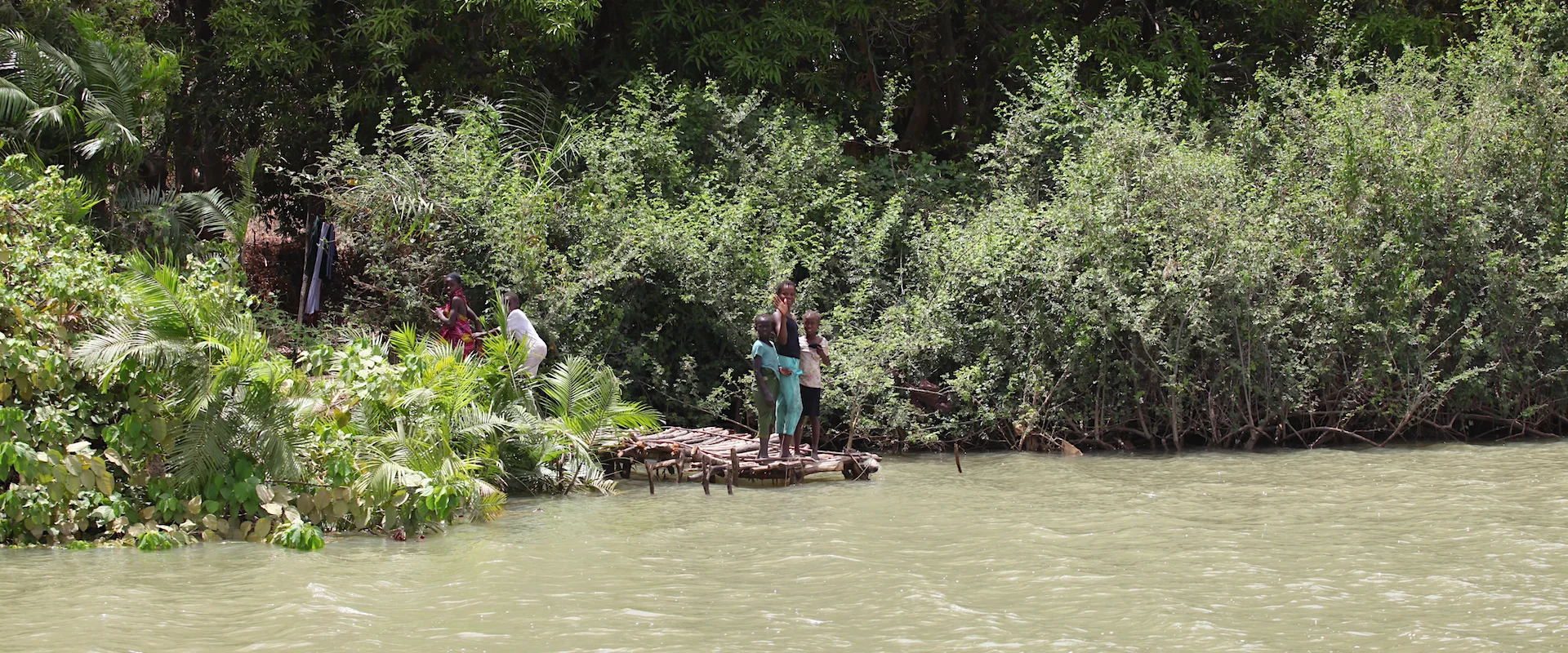 Slow travel, relax & enjoy!
Trip Summary
5 day / 4-night residential river adventure (Sleeping onboard the Fula Princess). Full Board.
Group Size: 1 – 4 guests (unless by special arrangement)
Between: Bintang & Janjanbureh
Via: Tendaba, Kaur, Kuntaur, Wassu Stone Circles & River Gambia National Park
Cost – 4 people is £2160 ( £540 each )
Cost – 3 people is £2100 ( £700 each )
Cost – 2 people is £2040 ( £1020 each )
Cost – 1 person is £1980
Timetable between Bintang – JJB
4 night river holiday, secure yours today!
Itinerary
Day 1:
Arrive in Bintang by 9 am and stroll the village, visiting the women who harvest and process oysters from the local mangroves. Cruise out through Bintang Bolong into the main River Gambia and head to Tendaba Camp. Dolphins are often seen on this part of the journey. Sleep around Tendaba.
Day 2:
After breakfast, take a small boat into the Bao Bolong Wetlands, one of the most beautiful and pristine environments on the river, teeming with birdlife and with the chance of seeing crocodiles. Depart Tendaba and relax onboard en route to the wharf town of Kaur. Walk around the peanut wharf and learn about how peanuts have shaped Gambian history, visit the market and head to Kauren Camp for great views over the river. Sleep around Kaur area.
Day 3:
Continue East and into the River Gambia National Park with the possibility of seeing hippos, chimpanzees, baboons and other primates, monitor lizards, turtles and even the odd crocodile. You will meet the local park rangers who will talk to you about the chimpanzee rehabilitation project and take you for a short walk through the forest to see and learn more about the endangered Temminck's Red Colobus monkey. At your leisure, cruise to the jetty at Kuntaur and relax on board or at the nearby Kairoh Garden Lodge. Sleep around Kuntaur.
Day 4:
After breakfast, visit the UNESCO World Heritage Site of Wassu Stone Circles before heading back to the boat and on to the cultural and historic town of Janjanbureh. Once there, you will visit a palm wine tapper at his work and go to the Kankurang Centre, an exhibition dedicated to the West African masquerade culture. Sleep around Janjanbureh.
Day 5:
In the morning, enjoy an optional activity in Janjanbureh (Charge may apply), relax onboard or walk out and soak up the atmosphere of the town. Check out by 12 pm.
Optional Extra Day: Start your trip with a speedboat ride to visit the museum at Albreda / Juffereh and the historic ruins on James Island dolphin spotting along the way. From there to Bintang and a night at Bintang Bolong Lodge before joining the Fula Princess the next morning.
Notes on Road Transport
Bintang is approximately 1 ½ – 2 hours from the coastal resorts of Gambia. Book your taxi with us for £55.00
Janjanbureh is approximately 4 – 5 hours from the coastal resorts of Gambia. Book your taxi with us for £140.
If you are arriving from or departing somewhere other than the coastal resorts of Gambia please ask for more information about road transport.
Optional Activities in Janjanbureh:
Kayaking: Two to three-hour guided excursion. £30 per person.
Bird Watching: Two to three-hour guided walk with highly-rated local birder Bakary Manneh, at one of a choice of local sites. From £50 per group.
Local historical tour: With one of the trained and licensed tour guides. £10 per person.
Tigerfish fishing: Three hours of trolling for the famous African Tigerfish at one of our local fishing sites. £100 for up to two people. Includes equipment hire.
Riverbank fishing: Equipment hire. £10 per rod per day
Silversmithing Experience: Try your hand at silversmithing with local smith, Papa Cham at his hand-bellowed furnace. £20 per person including handmade souvenirs.
Check out your flight options below and contact us if you have questions😉